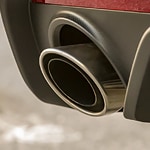 If you're a San Angelo, TX car shopper who's looking for a sports car, the Ford Mustang at Jim Bass Ford Inc. is a superior model with a host of features that enhance performance. From multiple engines to choose from and a class-exclusive active valve exhaust, the Mustang is sure to meet your expectations.
The Mustang features Launch Control that uses the brakes, powertrain, and traction control to provide you with quick starts, and you can keep an eye on real-time performance information on the in-dash LCD screen. There's also an electronic line-lock that locks the front brakes and releases the rear brakes for a responsive takeoff.
The 2.3L EcoBoost engine has twin independent variable valve timing, turbocharging, and direct injection for remarkable performance. This engine delivers 310 horsepower and 350 pound-feet of torque. With the 2.3L High-Performance engine, there's a larger twin-scroll turbo compressor and larger radiator that help it get up to 330 horsepower and 350 pound-feet of torque.