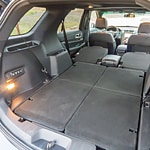 The Ford Explorer is among the best-selling SUVs on the market today. Jim Bass Ford Inc in San Angelo, TX has Explorers available. These vehicles offer you an array of appealing features. Among these features, you will find features that make driving and towing both easier and safer.
With the Ford Explorer, you will have a towing capacity of up to 5,600 pounds. This means that you can easily tow boats and camping trailers. To make towing safer, this SUV offers trailer sway control. This allows the Explorer to utilize braking and throttle control to keep the trailer from tipping or causing the vehicle to go out of control.
Sometimes, a larger vehicle that is pulling a trailer can be affected by side winds blowing at a significant speed. They can cause the SUV to be pushed into an adjoining lane. To prevent this, the Explorer has a side wind stabilization feature to give you more confidence in windy conditions.