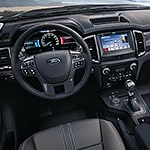 It's happened to everyone in San Angelo, TX at least once. You drive to a crowded mall or theme park, spend some time inside, and can't remember where you parked when it's time to leave. Sometimes you try to memorize the lot number, but that doesn't help you if the parking lot is crammed with vehicles. Now you've got no choice but to walk around and try to find your vehicle in a seemingly endless maze.
At Jim Bass Ford Inc., we're happy to say that the Ford Ranger changes that. When you buy a new Ford Ranger, you'll get to download the FordPass app right to your smartphone. This app has a number of different features, including a GPS app that tracks your vehicle's location.
No more wandering the parking lots, trying to remember where you parked. And if your vehicle gets stolen, you might also be able to use this app to help the police your vehicle.