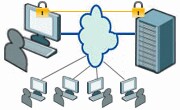 There are billions of server web pages on the Internet. There are hundreds of millions of users world wide, but unfortunately, not all of them are nice. The threat to consumer information is real. HTTPS/SSL make it possible for us to collect and transmit information securely. We have provided this page to give you the absolute confidence that your information is safe with us.
Whenever we collect sensitive data from you (including the combination of your social security number, date of birth, driver's license, full name, address, bank information, etc.), it will be done on a HTTPS/SSL connection that you can verify.
What is a secure connection?
A secure connection is an encrypted exchange of information between the server (where our web files are hosted) and your computer (which you use to view the web files with a "browser"). Encryption is provided through a certificate system that is guaranteed by a reputable third-party signing company.
In the secure HTTPS/SSL connection at this website when you click the "submit button" to send information to the server, it is first encrypted at your computer before it is transmitted through the Internet. We do not encrypt after you submit like many non-secure websites do. This is evident by the presence of the secure padlock in the browser.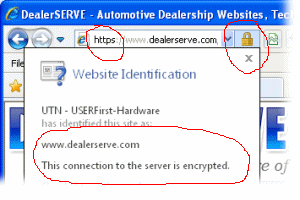 How can I tell if I have a secure connection?
In the browser, you will see a lock icon in the Security Status bar, generally located somewhere at the top of the page, next to the Address bar. If you click on the padlock, you will see the certificate that is used to encrypt the connection between your computer and the server.
The certificate will give information about the server, the signing company, and the owner of the certificate. The SSL certificate for the forms that collect sensitive data at this website is issued to DealerSERVE.com and is signed by the Comodo Group (a leading provider of SSL certificates).